Wine Is Life Community Blog
Simple and Delicious Wine Snacks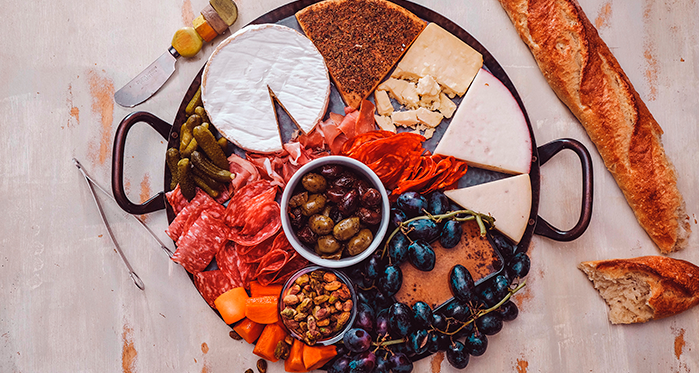 Whether you are having a wine tasting or simply decided to enjoy a glass of wine after a long working day, it is important to pair your favorite drink with the most suitable snacks. Although wine is considered to be a sophisticated drink, it can be easily paired with lots of types of food that is easy to find and does not require special preparation.
Cheese

When it comes to wine snacks, cheese might be the safest and the most popular option. Pair full-bodied whites (Chardonnay) with hard nutty cheeses. Fresh, light white wines (Sauvignon Blanc) is best enjoyed with goat cheese. If you are fond of blue cheeses, you might have heard that it suits best for dry red wines. Some wine lovers actually say that salty cheese works well with sweet wines, especially white. Try it out! 



Popcorn
You might be surprised, but popcorn can be a perfect snack for wine! For example, salty popcorn can be a nice compliment to Extra Brut Prosecco. If you would like to go a bit extra with your snacks, add either pistachios or sesame seeds to your popcorn.
Cold Meat

You can't go wrong with salami, prosciutto or jamón serrano. Simply pick or favorite and pair it with red wine, like Chianti for example or Cabernet Franc.

Parmesan Bread

Works best with reds, but can be paired with white wines too (depends on your personal preferences). The recipe is simple: buy a long baguette at your local bakery, cut it, put a bit of butter, parmesan, and garlic on top of each slice. Leave it in the oven until the cheese is melted.

Olives

If you have access to high quality marinated olives, feel free to pair them with dry wines, like Sherry for example.

Caprese Salad

...also know as tomato & mozzarella appetizer. Although the salad is really simple, it is extremely delicious and can be a great wine snack. Due to the acidity of tomatoes, try to avoid tannic red wines (e.g. Nebbiolo, Syrah, Malbec). Caprese salad is a great pairing for crisp white wines, for example, Sauvignon Blanc or Riesling.

French Fries

You might not consider french fries to be 'wine' food, but they actually are! Dry sparkling wine tastes much better when paired with salty snacks. The combination of bubbles and sault exposes the unique wine flavors and aromas. If you are not a big fan of french fries, try sault flavored potato chips. Some stores actually offer special 'wine' chips.
Apart from the food itself, it is important to pay attention to the serving style. Wine lovers usually use various charcuterie boards, either wooden or marble. Right now you can find various designs on the internet and make your wine drinking experience significantly better.
Share with us your favorite wine snacks. Do you have any secret recipes?
35 comments